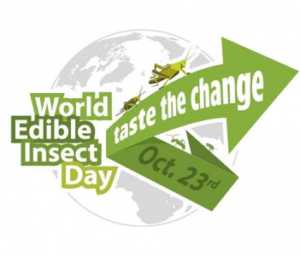 To honor the first edition of World Edible Insect Day (the 23d of October 2015) Bugburger composed a list of entopreneurs around the world. That is companies, organisations and individuals who either are working on an edible-insect product, are planning to deliver one or are just advocating the benefits of eating insects.
Normally Bugburger.se primarily covers the Swedish ento-scene, and the posts are usually written in Swedish. This is one of the times we make an exception.

The list is not complete (that is an almost impossible task), and sometimes companies in the list don't make it, but it shows in a good way what is happening out there, and what kind of products start ups go for!
Please post comments if you would like to add a company to the list.
The list was updated 2018-1-17, 246 companies/organisations.
THE LIST – CATEGORIES:
INSECT PRODUCTS:
Protein-bars/insect bars
Protein shake/nutrition supplements
Insect candy/snacks
Insect/cricket flour/powder
Insect pasta
Special insect products (unique products hard to categorize)
Insects as food (generalists)
Insect restaurants/insect chefs/insect catering
Insects as pet food
Insects as animal feed
Online stores selling insects for human consumption
Whole sale – edible insects
INSECT FARMING/RESEARCH/ADVOCATES:
Professional insect farmers
Home farming insects
Insect farming for the poor
Other farms and consulting
Research projects
Insect eating advocates and business organisations
INSECT STARTUPS THAT DISAPPEARED:
Here is a list of startups that seems to have stopped existing (they are not inclued in the company count)
Please contact Bugburger if that is not the case.
---
Protein-bars/insect bars:
There are lot of people out there that think Patrick Crowley really came up with a great way of serving crickets as food when he founded Chapul (Aztec for crickets). The Chapul bars have been sold for a couple of years and as you can see in the list below they are getting more and more competition!
Jungle bar (www.junglebar.co) (Iceland)
Gathr foods (gathrfoods.com) (UK)
Makes the Crobar.
BeEnto (https://twitter.com/entofoods) (UK)
SEQ Foods (www.seq-foods.eu) (Netherlands)
Getsharp (www.getsharp.eu) (UK)
Gryö Bars (www.gryobars.com) (France)
Edible Bug (edible-bug.co), (South Korea)
uKa Protéine (www.ukaproteine.com) (Canada)
La View Eye (www.lavieweye.com) (US)
Crick bar (www.crickbars.com) (Sweden)
Yumpa (www.yumpabar.co.uk) (UK)
Näak (naakbar.com) (Canada)
Zoic bar (www.zoicbar.com) (UK)
Dare to eat (www.daretoeat.dk) (Denmark)
Crickstart (crickstart.com) (US)
The IQ bar
The Cricket Effect (thecricketeffect.weebly.com) (Australia)
Jimini's (www.jiminis.com) (France)
Read test (in Swedish) here >>
Swarm Protein (swarmprotein.com) (Germany)
Jump Bars (twitter.com/jumpbars) (Canada)
Leader Zircca bar (www.leader.fi/eng/products/zircca/) (Finland)
Finnish company producing protein bars that now have launched protein bars.
---
Protein-shakes/nutrition supplements:
Insects contain a lot of protein. So why not make protein shakes out of them? Or Omega-3 supplements?
Ronzo (www.ronzo.co) (Poland)
A polish start up now focusing on their coming product: cricket capsules >>
Bugeater Foods (www.bugeaterfoods.com) (US)
CrikNutrition (www.criknutrition.com) (Canada)
Bug Muscle (bugmuscle.com) (US)
(At the moment its not clear what kind of product they will release, but they want to turn insect protein into muscles 😉
Jurassic Snacks (www.jurassicsnacks.com)(US)
---
Insect-candy/snacks/crispbread:
Hotlix are the pioneers of "insects candy" and started their business in the 70:s. They sell the classic lollipops with a worm, dried grasshoppers etc. They have relied a lot on the scary/yuck factor of insects, and maybe they won't do that well when insects become more mainstream. The new startups like Sixfoods selling their Chirps and Crickers selling their Crickers crackers have a different more serious agenda.
Hotlix (www.hotlix.com/candy) (USA)
Crickers (www.crickerscrackers.com), (USA)
Six Foods (www.sixfoods.com) (USA)
The company behind the cricket chips: "Chirps.
Snack Insects (www.snackinsects.com) (Germany)
Crispizz (twitter.com/crispizzfood) (France)
Insecteo (www.insecteo.com) (France)
Eat:em (www.eatem.se) (Sweden)
Cricket-snacks.
Seek (www.seek-food.com) (USA)
Cricket snack bites.
Griyum (griyum.com.mx) (Mexico)
Mexican grasshopper crisps.
Kafka of Sweden (www.kafkah.com) (Sweden)
Protein enriched crisp bread.
Crickster (www.crickster.dk) (Denmark)
Wicked Cricket (www.wickedcricket.de) (Germany)
Roasted cricket snacks.
Griinsect (www.griinsect.fi) (Finland)
Northern forest cricket crackers from Finland.
Bugsnacks (bugsnacks.vn) (Vietnam)
---
Insect/cricket flour/powder:
Making flour/powder out of insects is big business, and will become an even bigger business as it its the bases of many insect products.
Bitty Foods (bittyfoods.com) (USA)
Sells their own cricket flour mix (mixed up with coconut and cassava) and cricket snacks. Used to sell cookies.
One of the ento-preneur pioneers. Bugburgers has written about Bitty (in Swedish) here  >>
Qvicket (www.qvicket.se) (Sweden)
Swedish startup who imports cricket flour from Thailand and sells under own brand. Unfortunately Swedish authorities have haltered their business awaiting regulation from the EU.  BUT: From April 2016 they are selling again, but from Belgium.
All Things Bugs (allthingsbugs.com) (USA)
The company behind the cricket powder below.
Griopro (cricketpowder.com) (USA)
The "original patented cricket powder". All Things Bugs brand.
Thinksect (www.thinksect.com) (USA)
Cricket Flours (www.cricketflours.com) (USA)
Entolution (twitter.com/entolution) (USA)
Eco Insect Farming (www.eif-th.com) (Thailand)
Primal Future (www.primalfuture.co.nz) (New Zealand)
Acheta (acheta.no) (Norway)
Norwegian startup selling cricket powder under its own brand.
Grilo Protein (www.griloprotein.com.au) (Australia)
Australian company selling cricket powder (with different flavours) and soon also bars.
---
Insect pasta:
Nutribug (www.nutribug.com), (UK)
Nutribug has been working on two products: Pro pasta with cricket flour, and Pro crackers. So when they deliver they deliver in two categories 😉
Going Bugs (twitter.com/GoingBugs), (Italy)
It feels good that an Italian startup is working on an insect based pasta.
Goffard Sisters (www.goffardsisters.com),  (Belgium)
Kinjao (www.kinjao.com) (France)
High protein pasta with cricket flour and spirulina!
Bugsolutely (www.bugsolutely.com) (Thailand)
Have launched their cricket pasta!
Insects & vous (on Kickstarter) (France)
Crické (www.crickefood.com) (Italy)
Tottem Nutrition (tottemnutrition.co) (Canada)
Pasta + cricket powder.
---
Special insect products (unique products hard to categorize):
Some products are harder to categorize then other. Here are some extra interesting insect products.
Critter Bitters (www.critter-bitters.com) (USA)
Cocktail bitters made out of crickets!
Bug Foundation (bugfoundation.com), (Germany)
Has just released their own bug burger:  The Bux Burger! Something Bugburger really must try out!
C-FU Foods (cfufoods.com), (Canada)
Extracts the protein from crickets and makes their own cricket-tofu: C-FU.
Gran Mitla (granmitla.us), (Mexico)
"Sal de Gusano is a traditional Oaxacan spice made from sea salt, toasted and ground agave worms and chile costeño. A distinct Oaxacan flavor to accompany your Mezcal, Tequila or Michelada, on fruits and salads, or in signature Mexican dishes."
Damhert Nutrition, (www.damhert.be/nl/shop/insecta) (Belgium)
One of the first brands selling burgers, nuggets, and schnitzels where the protein comes from insects!
One Hop Kitchen (onehopkitchen.com) (Canada)
C-FU Foods own food brand selling a bolognese with crickets.
Anti Gin (www.cambridgedistillery.co.uk/antygin/)(Denmark/UK)
A unique drink from Nordic Food Lab!
Syngja (Denmark)
Read more about their cricket shot here >> 
Gryllies (gryllies.com), (Canada)
Are now focusing on selling a cricket-enriched tomato sauce.
---
Insects as food (generalists):
There are also a lot of startups/companies who have a more general approach to insects as food and don't rely on one product.
Grub (www.eatgrub.co.uk) (UK)
Grub will soon also launch their own insect bar, but until now their main focus have been selling freezedried insects , collecting recipes and advocating insect eating. They also sell fudge and chocolate so they could also have made it into the snack category 😉
Green Kow (www.greenkow.be) (Belgium)
Claim to be "first in Europe to offer products containing insects (mealworms), to be distributed in regular stores (organic and nature food stores)".
Their products: 2 salty spreads: carrot- and tomato-mealworm, and 2 chocolate spreads: dark chocolate-mealworm and milk chocolate-mealworm spread.
Entomo Farms (entomofarms.com) (USA)
Previously known as Next Millenium Farms. Has a lot of interesting products.
Dybri  – Edible insects from Cornwall (dybri.com) (UK)
Myldregard (myldregard.no), (Norway)
Ben's Bugs (www.bensbugs.be), (Belgium)
Bugburger likes the fact that Bens makes a hamburger "Great Burgondy". They also sells an insect wok-dish.
Inspiro Foods (www.insprofoods.com) (Canada)
Nutrient (nutrient.se) (Sweden)
The first Swedish entopreneur breeding its own mealworm.
Bugzz (bugzz.nl), (Netherlands)
Entotech (www.entotech.fr), (France)
Creators of Insectéo snacks and Kinjao.
Viur (www.fodurskordyr.is), (Iceland)
Have plans to breed the soldier fly.
Steak TzarTzar (www.tzartzar.biz), (Israel)
Little food (littlefood.org), (Belgium)
Spieseplan (www.speiseplan.wien), (Austria)
Bugs World Solution Food  (www.bugsworldsolutionfood.com) (Belgium)
Entomo Foodafrica (www.facebook.com/entomo.foodafrica) (D.R. Congo)
Nordic Insect Economy (nie.fi) (Finland)
essento (essento.ch) (Switzerland)
Finsect (www.finsect.fi) (Finland)
Italibugs (www.italbugs.com) (Italy)
Italian food (pasta) and sport supplements (protein powder and bar)
Imago insect products (www.imago-insects.com) (Germany)
Protein flour, dried crickets and proteinbars.
Detroit Ento (US)
Entosense (www.entosense.com) (USA)
Entovida! (www.entovida.com) (USA)
Tiny Foods (www.tinyfoods.nl) (Netherlands)
Earth and me (www.earthandme.co.uk) (UK)
Insekten Essen (insektenessen.at) (Austria)
Enorm (www.enormfood.com) (Denmark)
Danish company working on products using mealworms.
Flying Spark (www.theflyingspark.com) (Israel)
Israeli company working with fruit fly larvae. The currently produce whole powder, reduced-fat powder, dry larva and larvae oil.
Bug biters Corporation (www.facebook.com/Bug-Biters-162802594219573/) (Mexico)
Farming Insects (farming-insects.com) (Germany)
Ïhou (ihou.fr) (France)
" The houhou products are exclusively from our breeding based in the East of France . Our insects are born there and live in an environment created to be as close as possible to their natural ecosystem."
Entis (www.entis.fi) (Finland)
Jiminy Co. (www.jiminyco.com) (USA)
The Bug Buggy (www.thebugbuggy.com) (USA)
Small Chomp (www.insetticommestibili.it/) (Italy)
Proento (www.proento.com) (Netherlands/Mexico)
Entomos (www.entomos.ch) (Switzerland)
Burgs food (www.burgsfoods.nl) (Netherlands)
The dutch bugburger!
Inskt (www.inskt.dk) (Denmark)
Are about to launch a webshop selling "raw" edible insects, as well as a few products with insects from different European producers. Will  also be offering tasting/cooking events
Minus farm (minusfarm.fr) (France)
Micros farm selling its own products.
Tebrito (tebrito.se) (Sweden)
Working on their own protein product based on mealworms.
Invertapro (www.invertapro.com) (Norway/Tanzania)
---
Insect restaurants/insect chefs/insect catering
In the list below I include companies/chefs focused on insects. I've not included restaurants that have one or two dishes with bugs on the menu. If you know Swedish or do a google translate you can read Bugburgers article on gourmet restaurants like Noma in Denmark and D.O.M in Brazil. Bugburger has also have visited Archipelago in London, and Mexican restaurant Ty y Yo in Boston.
Don Bugito (www.donbugito.com) (USA)
"The prehistoric snackeria", serving mexican bug food.
Grub Kitchen (www.grubkitchen.co.uk) (UK)
The first dedicated insect restaurant in Britain.
Entomochef (www.entomochef.be) (Belgium)
Does a lot of events, and also sells their own products. Chris Derudder from Entomochef founded the World Edible Insect Day.
The Bug Chef (www.davidgeorgegordon.com) (USA)
The guy behind the classic "The Eat-A-Bug Cookbook".
Bug Appétit (USA)
The restaurant at the Audubon Butterfly Garden and Insectarium.
The Bug Banquet (UK)
"The Bug Banquet is a culinary and aesthetic exploration of entomophaghy which aims to redefine the parameters of food through the art of presentation."
The Black Ant (theblackantnyc.com)(USA)
Mexican restaurant serving insects in New York.
Insect-o-shi (twitter.com/insectoshi) (Netherlands)
The company's primary objective is to create a sushi bar with just edible insects.
Chirp cuisine (chirpcuisine.wixsite.com) (Canada)
Catering and workshops.
Bugs Café (www.bugs-cafe.com) (Cambodia)
Insects in the backyard (www.insectsinthebackyard.com) (Thailand)
Chef Gouttebel (chefgouttebel.no) (Norway)
If you need an entochef in Norway, call Chef Gouttebel!
Master Bug (www.masterbug.it) (Italy)
Italian entochef.
---
Insects as pet food:
Why not give your best friend an insect snack?
Hexa Foods (www.hexafoods.com) (Canada)
Produces: Bugbites, (on Kickstarter)
EntoBento (entobento.com) (USA)
On Kickstarter >>
Chloes treats (www.chloestreats.com) (USA)
Conscientious cat (www.conscientious.cat) (USA)
Sustainable, ethical cat food.
Cricket Kitchen Pet Treats (www.cricketkitchen.com) (USA)
---
Insects as animal feed:
Several companies see the potential in feeding livestock, fish, pigs and poultry with insects instead of other protein sources. Not as energy efficient like eating the insects our selves but more environmentally friendly then shipping soya beens all over the world and feeding fish with fish. Especially if you can feed insects with leftovers from for instance the food industry.

Protix (www.protix.eu) (Netherlands)
Ynsect (www.ynsect.com) (France)
Entomo Farm (entomo.farm), (France)
PROTEiNSECT (www.proteinsect.eu)
Diptera (www.dipteranutrition.com), (Italy)
Entobel (www.entobel.com) (Vietnam)
Agriprotein (www.agriprotein.com) (South Africa)
Hipromine (www.hipromine.com) (Poland)
Entofood (entofood.com) (Malaysia)
Enviroflight (www.enviroflight.net) (USA)
Grubbly Farms (grubblyfarms.com) (USA)
Bugimine (bugimine.com) (Estonia)
Goterra (goterra.com.au) (Australia)
Nutriinsect (www.nutrinsect.it) (Italy)
Hermetia (www.hermetia.de) (Germany)
MealFood Europe (mealfoodeurope.com) (Spain)
Next Alim (www.nextalim.com) (France)
Nasekomo (www.nasekomo.life) (Bulgaria)
nextProtein (www.nextprotein.co) (France)
---
Online stores selling insects for human consumption:
For Swedish readers of this post, please check out  Bugburgers shopping guide >>
Another important notice: Most of the companies above have their own shops selling directly to their customers. Below are company who sell a range of different insect products.
Thailand Unique (www.thailandunique.com) (Thailand)
The shop with the widest range of insects. Many of them also sold in shops in the US and Europe.
Hakuna mat (www.hakunamat.se) (Sweden)
Swedish webshop that has been closed down awaiting directives from Swedish food authorities (Livsmedelsverket).
Next Food (www.next-food.net) (Thailand)
A farm that sells their home grown insects. And they also sell them wholesale if you want to start a restaurant or consume a lot of insects.
Crunchy Critters (www.crunchycritters.com) (UK)
MiniFood (www.minifood.be), (Belgium)
Edible Bug Shop (www.ediblebugshop.com.au) (Australia)
Delibugs (www.delibugs.nl) (Netherlands)
Jiminis (www.jiminis.com) (France)
Insectes comestibles (www.insectescomestibles.fr) (France)
Sexy food (www.sexyfood.fr) (France)
Haocheng MealWorm Inc (www.hcmealworm.com) (China)
Cricket Protein Store (cricketproteinstore.com) (USA)
Entomarket (www.entomarket.com) (USA)
Extreme food (www.extremefood.se) (Sweden)
The first shop in Sweden that sold insects as food (Hotlix products). At the moment they have been stopped by Livsmedelsverket (read more about the regulations in Sweden).
Crawlers. (crawlers.co.nz) (New Zealand)
Insektenlutcher.de (Germany)
Sell insects since 2002 in Germany.
They also have their own cookbook, and hold cooking classes.
DinInsektButik (www.dininsektbutik.dk) (Denmark)
21 Bites (21bites.com) (Italy)
"21bites is the first European online shop where you can buy edible insects products from the best European companies today on the market, carefully-selected to ensure the highest quality and safety."
Future Food Shop (www.futurefoodshop.com) (UK)
Selling food made of insects and other "future food".
Muurahaiskauppa.com (www.muurahaiskauppa.com) (Finland)
Webshop selling Finnish insect products and imported insects.
---
Whole sale – edible insects:
Here is a list of companies who works primarily wholsesale selling insects to restaurants, shops etc.
Anteater (www.anteater.co.nz) (New Zealand)
Big Bugs Inc  (bigbugsinc.com) (USA)
Deli Ostrich (www.deli-ostrich.com/index.php/en/products/entomo) (Belgium)
A company that sells a lot of exotic animals as food. Including a couple of species of insects that are sold frozen to shops.
---
Professional insect farmers:
Here a list of companies that are rearing insects for human consumption. In Sweden we have one farm (Cricket Express) that unfortunately only is allowed to farm insects for pets.
Big Cricket Farms (www.bigcricketfarms.com), (USA)
Micronutris (www.micronutris.com) (France)
Proti-Farm (protifarm.com) (Netherlands)
Kreca (www.krecafood.com) (Netherlands)
Part of Proti-farm
Rainbow Mealworms (www.rainbowmealworms.net), (USA)
Sahakhun Bug Farm Ltd.,Part, (Thailand)
Edible Bugfarm (www.ediblebugfarm.com) (UK)

Ozark Fiddler Farms (www.ozarkfiddlerfarms.com) (USA)
Rocky Mountain Micro Ranch (rmmr.co) (USA)
Zophobas Red (twitter.com/zophobas_red) (UK)
Coalo Valley Farms (www.coalo.farm) (USA)
CrickEatz (twitter.com/Crickeatz) (UK)
Armstrong Cricket Farm (www.armstrongcrickets.com) (USA)
Eco Insect Farming (eif-th.com) (Thailand)
Chapa farms (www.chapafarms.com) (Mexico/Canada)
Next Food (www.next-food.net) (Thailand)
Six legs farms (www.facebook.com/sixlegsfarm) (UK)
Insagri (www.insagri.com) (Spain)
Established in 2012, offers edible insects (mealworms and crickets) of premium quality in Europe, fed with organic products only.
Nordic Food Supplements (www.nordicfoodsupplements.no) (Norway)
Norweigan startup who is breeding mealworms with the plan of making petfood, plants nutrition and human nutrition.
Bugging Denmark ( buggingdenmark.dk) (Denmark)
Heimdal Entofarm (entofarm.dk) (Denmark)
Chirpy Crickets (www.chirpycrickets.com) (US)
Entofactory (entofactory.wordpress.com) (Chile)
Cowboy Cricket Farms (cricketcookie.com) (US)
"We have a family farm in Montana called Cowboy Cricket Farms. We raise crickets, do research, and sell 3 cricket products: Chocolate Chirp Cookie, Cricket powder, and Cricket flour."
Cricket farm (cricketfarm.org) (US)
Cricket Farm is a tiny indoor farm in Brooklyn NY that raises crickets for people to eat & also offers tiny residencies for people to work on projects while learning about cricket farming.
Harmony Micro Farms (harmonymicrofarms.com/) (US)
Hargol Food Tech (hargol.com) (Israel)
Grasshopper farm
Global Bugs (globalbugs.asia) (Thailand/Sweden)
Swedish/Thai company building a big modern insect farm in Thailand called Insect City.
The Cricket Depot (thecritterdepot.com) (USA)
Cricket farm selling insects (super worms, crickets and BSF larvae) as pet food.
Beta hatch (betahatch.com) (USA)
Instar Farming (www.instarfarming.com) (UK)
Farming crickets for food in the UK.
Horizon Insects (horizoninsects.co.uk) (UK)
Gryllus (gryllus.fi/) (Finland)
Cricket farmer.
Microvita (www.microvitaruggeri.it) Italy
---
Home farming insects:
Open Bug Farm (www.openbugfarm.com), (US)
Tiny farms great open source project where insect farmers share their experiences and practices for insect farming. They have also set up an open source kit on GitHub.
Livin Farms (www.livinfarms.com), (Hong Kong/Austria)
Katarine Ungers beautiful project Farm 432  has turned into a real product that you now can fund on Kickstarter!
Back it now!
Cricket Man (thecricketman.com), (US)
The Cricket Man, Marc Sanchez, has helped setting upp micro farms and larger farms since 2007.
---
Insect farming for the poor:
Some companies main focus is to come up with solutions that can help poor people in poor countries breed insects and give them a cheap source of protein.
Aspire FG (www.aspirefg.com), (Ghana, Mexico, US)
Aspires wants to save the world with insects, and they have started by establishing farms in Ghana, Mexico and USA.
EntoCube (entocube.com) (Finland)
EntoCube insect farm works well almost everywhere, but the original idea was to provide a solution for poor people in developing countries.
Read Bugburgers interview (in Swedish) with one of the founders  >>
Khepri (khepri.eu), (France)
Working on a breeding case that can be used by poor communities.
MealFlour (www.mealflour.org) (Guatemala/USA)
MealFlour is a social enterprise founded in 2015 to promote better nutrition through sustainable farming of protein-rich mealworms.
---
Other farms and farm consulting:
Insectergy (insectergy.com) (USA)
"INSECTERGY develops insect and cannabis farming technologies."
Six leg consulting (six-legs-consulting.net) (Germany)
Practical Consulting for the Industrial Insect Production
---
Research projects:
Wageningen University (www.wageningenur.nl) (Netherlands)
The university responsible for the FAO report: Edible insects – Future prospects for food and feed security 
On their webpage you can find a list of all edible insects in the world!
éntomo (www.entomoproject.eu) (Ireland)
GREEiNSECT (greeinsect.ku.dk) (Denmark)
MIGHTi (mighti.co) (US)
Dr Beynons Bugfarm (www.drbeynonsbugfarm.com) (UK)
Nordic Food Lab (nordicfoodlab.org) (Denmark)
Danish Technological Institute (www.dti.dk) (Denmark)
---
Insect eating advocates & business organisations:
Bugburger.se isn't the only website promoting insect eating. Here are some other insect advocates that don't sell stuff, just the message: Eat insects 😉
International Platform of Insects for Food and Feed (www.ipiff.org) (based in Belgium)
IPIFF is a non-profit organisation founded in 2013 which represents the interests of the breeders associated to this organisation.
IPIFF gathers the main private players in the insect industry.
Woven Network (woven-network.co.uk) (UK)
Woven Network is set up to directly benefit, through a set of membership services, entrepreneurs and researchers working in the role of insects in the human food chain. Indirectly, through supporting its members, the company will also benefit the wider public across the Globe that need sustainable, alternative sources of protein.
Belgian Insect Industry Federation (www.biif.org) (Belgium)
Objectives:
Unite all actors working in Belgium on the breeding and/or use for commercial purposes of insects and other arthropods.
Exchange and spread the knowledge regarding of insects and other arthropods, more specifically about their breeding and different commercial applications, to the general public, public authorities, the academic world and at a corporate level.
To promote Research & Development regarding the breeding and commercial use of insects and other arthropods, or parts/extracts thereof.
North American Coalition for Insect Agriculture (www.edibleinsectcoalition.org) (US/Canada)
"The mission of the North American Coalition for Insect Agriculture is to foster collaboration amongst stakeholders and create a consolidated voice to encourage the positive growth of insects as both feed and food."
Marcel Dicke, (twitter.com/DickeMarcel) (Netherlands)
His TED Talk on the topic "Why not eat insects" from 2010 is an important milestone in the entomophagy movement. See it here >>
4ento (4ento.com), (Switzerland)
Ana Day is doing a great job on promoting edible insects. Check out 4ento!
Food Insects Newsletter (www.foodinsectsnewsletter.org) (USA)
The classic source for entomophagy news.
Entomove Project (www.entomoveproject.com), (France)
Florian Nock is an environmental engineer, certified nutritionist and a great advocate of eating insects.
Bug Vivant (bugvivant.com) (USA)
Insects for starters (insectsforstarters.com) (Sweden)
Little Herds (www.littleherds.org), (US)
entonote (www.entonote.com) (Italy)
Girl meets bug (www.girlmeetsbug.com) (USA)
Daniella Martin, one of the pioneers of the new ento movement. Wrote the book "Edible" in 2014.
International Society for Food and Feed Insects (www.facebook.com/ISFFI) (USA)
Bugible (www.bugible.com) (USA)
Entoblog (www.entoblog.com) (USA)
Tastebugs (www.tastebugs.net) (Australia)
Bugsfeed (www.bugsfeed.com) (Denmark)
Impressive website made by the team behind the danish documentary "Bugs – will eating insects save our Earth?"
Insect cuisine (insectcuisine.jp) (Japan)
A group that get together once a month to enjoy edible insects.
Oh my bug recipes (www.ohmybugrecipes.com) (Netherlands)
Bugalicous (www.bugalicious.nl) (Netherlands)
Patricia Stevens company Bugalicous could have been placed in several categories. She gives lectures, do catering, produces an insect bar ("the first Dutch insect-based bar ever") and drives around her Insect van, "De Buggy".
Ento  Nation (www.entonation.com) (USA)
A podcast, and soon bug news website, hosted by Marc "the Cricket Man" Sanchez.
The Bugchicks (thebugchicks.com) (USA)
Buglady (Buglady.dk) (Denmark)
Insect startups that disappeared:
Unfortunately not all make it. Here is a list of some of the startups that seems to have stopped existing.
Please contact Bugburger if that is not the case.
Sustainable gains (www.sustainablegains.net) (US)
Crunchy Critter Farms (crunchycritterfarms.com) (US)
Jacuna (jacuna.mx) (Mexico)
bodhi (www.bodhiprotein.com) (UK)
Insectios (www.insectitos.com)(USA)
Cookies and seasoned dried insects.
Edible Unique (www.edibleunique.com) (UK)
Slightly nutty (www.slightlynutty.com) (USA)
Esculent (www.esculentinsects.com) (USA)
Mophagy (mophagy.com) (UK)
BugGrub (www.buggrub.com) (UK)
Poda foods (podafoods.com) (USA)
Jumping Jack Snack (jumpingjacksnack.com) (Netherlands)
ofbug (www.ofbug.com), (Canada)
Entoeats (entoeats.ca) (Canada)
Ecobar (www.ecobars.com.au) (Australia)
Dimini Cricket (diminicricket.com) (France)
Bugs on the menu (Canada)
ento (www.eat-ento.co.uk/) (UK)
Buggies (buggies.dk) (Denmark)
---
The End… but its far away from complete! Please write a comment below if you want to add a company!